Josh Elliott
Josh Elliott is an American Television journalist who at present is the news anchor at ABC for its popular show Good Morning America. He had earlier been with the Sports Centre at ESPN and also in the ESPNEWS programming. Dubbed as the 'Golden Boy' of the ABC show Good Morning America (GMA), Josh has played an important role in the show's success ratings.<
Born in the year July, 61971, Elliott majored in English literature at the University of California in Santa Barbara and acquired his master's degree from the School of Journalism at Columbia University. He started working for Sports Illustrated and stayed on for six years. Later he also worked as producer for Galaxy Productions and 20th Century Fox. Josh Elliott' is of Jewish religion.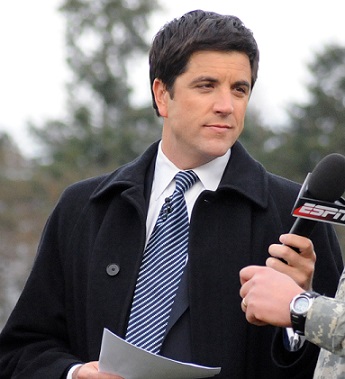 Josh is said to have troubled childhood. His mother Susan had him for adoption since birth. Susan was blindfolded when Josh was born and had requested to not see Josh after his birth as she would not be able to let Josh be given for adoption. Josh's parents, who adopted him divorced when he was at the age of 12. His father told family that he was gay.
Josh is infamous for having issues with women, including Lara Spencer. Josh has clashed with Spencer for trivial issues and do not have amicable relationship off-air. It is also said that he had fought with every women but Robin Roberts, whom he has higher respect for.
He married Priya Narang from Westport, CT. The couple later divorced. Josh has accepted that he has been a sex addict and was caught having sex after the honeymoon and with ESPN interns. His sex addiction was perhaps the reason for the couple to divorce. Josh and Priya together have daughter, Sarina Elliott. At present he has been alleged seen with girlfriend, Liz Cho who is an anchor at WABC-TV.
Elliott's first major career break came when he joined as panellist for the ESPN shows Jim Rome is Burning and Around the Horn. He was also the co-host for the ESPN2 show Cold Pizza. He has also worked for ESPN Magazine and the website ESPN.com. Hannah Storm was his co-anchor on the ESPN Sports Center. He joined the Good Morning America show at ABC after its anchor Juju Chang quit the show. He co-anchored the Good Afternoon America show with Lara Spencer from July to September in 2012. The other anchors of the show who appear along with Elliott are Stephanopoulos, Robin Roberts, and Lara Spencer. The Good Morning America show with its news, weather forecast, feature stories, and interviews that were done on a lighter vein was a huge hit with the audience and is still enjoying popularity.
Elliott was honored with the local Emmy Award in the year 2005 in New York City for his contribution to Angles of the Madison Square Garden (MSG) Network. He has also appeared as co-host for Westwood One Sports' Super Bowl XL.
Since the year 2011, Josh Elliott has been with Good Morning America, which was based on the show The Morning Exchange, a local program on ABC. Josh Elliott has made the GMA a big hit and it still stays in the lead, when compared to its rival show, Today of NBC. Though he was accused of creating disturbances among the cast and crew in the year 2012, he still maintains his prominent position in the show.