Josh Elliott
By: bi jog | Aug 1 2013
Introduction
Josh Elliott is an American Television journalist who at present is the news anchor at ABC for its popular show Good Morning America. He had earlier been with the Sports Centre at ESPN and also in the ESPNEWS programming. Dubbed as the 'Golden Boy' of the ABC show Good Morning America (GMA), Josh has played an important role in the show's success ratings.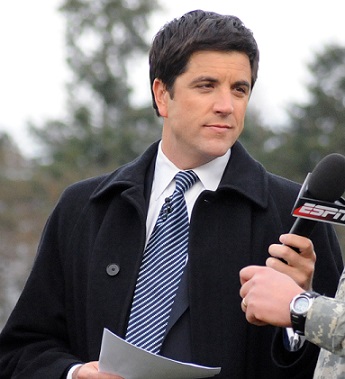 Born in the year July, 61971, Elliott majored in English literature at the University of California in Santa Barbara and acquired his master's degree from the School of Journalism at Columbia University. He started working for Sports Illustrated and stayed on for six years. Later he also worked as producer for Galaxy Productions and 20 th Century Fox. Josh Elliott' is of Jewish religion.
Josh is said to have troubled childhood. His mother Susan had him for adoption since birth. Susan was blindfolded when Josh was born and had requested to not see Josh after his birth as she would not be able to let Josh be given for adoption. Josh's parents, who adopted him divorced when he was at the age of 12. His father told family that he was gay.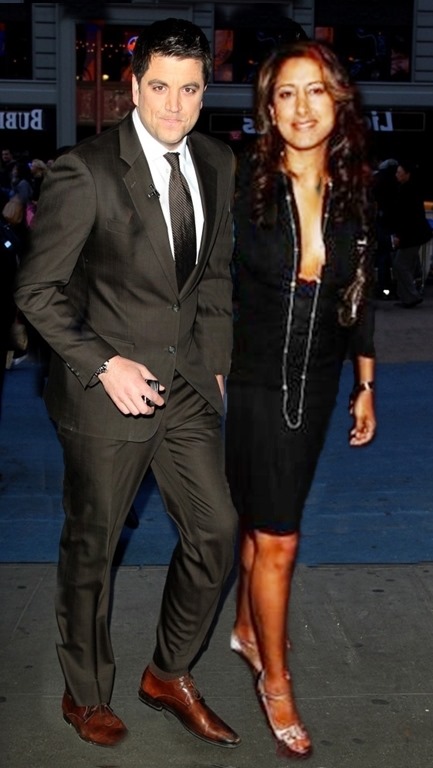 Personal Life
Josh is infamous for having issues with women, including Lara Spencer. Josh has clashed with Spencer for trivial issues and do not have amicable relationship off-air. It is also said that he had fought with every women but Robin Roberts, whom he has higher respect for.
He married Priya Narang from Westport, CT. The couple later divorced. Josh has accepted that he has been a sex addict and was caught having sex after the honeymoon and with ESPN interns. His sex addiction was perhaps the reason for the couple to divorce. Josh and Priya together have daughter, Sarina Elliott. At present he has been alleged seen with girlfriend, Liz Cho who is an anchor at WABC-TV. As for Ms. Narang Elliott we can tell you that she keeps a low profile and even though her ex-husband is famous on the national TV broadcasting, she protects her privacy and that from her daughter's. Rumors say that she is still single. No serious relationship with anyone, the love of her life is her adorable 3-year-old daughter Sarina from her marriage with the Good Morning America anchor.
Career
When he joined as panellist for the ESPN shows Jim Rome is Burning and Around the Horn. He was also the co-host for the ESPN2 show Cold Pizza. He has also worked for ESPN Magazine and the website ESPN.com. Hannah Storm was his co-anchor on the ESPN Sports Center. He joined the Good Morning America show at ABC after its anchor Juju Chang quit the show. He co-anchored the Good Afternoon America show with Lara Spencer from July to September in 2012. The other anchors of the show who appear along with Elliott are Stephanopoulos, Robin Roberts, and Lara Spencer. The Good Morning America show with its news, weather forecast, feature stories, and interviews that were done on a lighter vein was a huge hit with the audience.
Elliott was honored with the local Emmy Award in the year 2005 in New York City for his contribution to Angles of the Madison Square Garden (MSG) Network. He has also appeared as co-host for Westwood One Sports' Super Bowl XL.
Since the year 2011, Josh Elliott has been with Good Morning America, which was based on the show The Morning Exchange, a local program on ABC. Josh Elliott made the GMA a big hit and it still stays in the lead, when compared to its rival show, Today of NBC. Though he was accused of creating disturbances among the cast and crew in the year 2012, he still maintains his prominent position in the show.
Aftermath
Later in 2014 he left his infamous how Good Morning America for NBC Sports. The 42-year-old host quit the ABC morning show last week and will now host NBC Sports coverage including the Olympics and Sunday Night Football. And just days after announcing his move, Josh teamed up with Sam, who quit GMA to helm the NBC Universal-owned Weather Channel, and his best buddy Matt Ginella, who hosts the Golf Channel's Morning Drive.Elliott explained, "I had wonderful offer from ABC on the table and I had a wonderful offer from NBC Sports on the ta
ble. There wasn't a bad choice. It was just going to be which great choice was best for me this was a great thing for me in the end to do," adding he was "over the moon happy."
There are sources that inform that Josh Elliott is very insecure, when it comes to his job. He constantly asks validation from his co-workers about his work. There are news about his behavior in the Good Morning America set and rash behavior with his co-workers including his writers. Is his troubled childhood a reason for his behavior? He also contacted his birth mother and said that he is happy that she did not abort him and made sure she found a good house for his better future.
With the affair, divorce and other women issues, his reputation has hit rock bottom. This single father is allowed to spend only a few hours with this daughter. Many co-workers and friends still support Josh, indicating that the media business can create a lot of mental stress. Many people accept no matter what is personal life is, he is the best man in the show biz.
He was excited to be in Kentucky covering the Derby for NBC Sports. "The great thing about this, and really the reason I came to NBC Sports in the end, is that sports are treated like events and the stories, they dive into them with a zeal." Josh was also really looking forward to covering the Olympics. "I would be lying if I didn't say that I had my eye on a certain city in Brazil in a couple years."
Josh also talked about the media hullabaloo that followed his exit from "GMA." "What happened in the immediate aftermath of my departure was interesting for me to see. This very deeply personal choice of mine becomes almost a bit player in this grander melodrama, 99 percent of which was just whole cloth fiction. It became good reading for me."
Josh has also been time and again speculated to be Gay. When his father opened his sexual interest to the public and when Josh found out that his father was gay he had doubts and concerns about his own sexuality. "My first feeling when my father told me was loyalty - thinking 'I guess I have to be gay too. Maybe I'm gay,'" Elliott said. "It's a lot to work through as an 8th grade boy."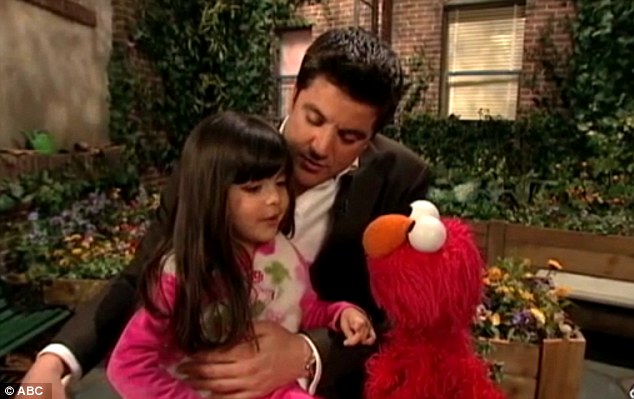 Josh Elliott is grateful that his father was honest about himself. He ended up dying two years after coming out.
"For two years I got to see him complete and out and proud," Elliott said on "The View".
As the report indicated, the "GMA" anchor first brought up his father's homosexuality in 2012 while attending a GLAAD awards dinner. He's an ardent supporter of LGBTI equality and good friends with former "GMA" weather anchor, Sam Champion.
There have been reports speculating that Josh Elliott is gay, but the journalist has not come forward announcing this. Sharing the experience he had with his father will likely just spur more suspicions and rumors that he is gay.
Elliot is a man always raised by controversies that sets doubt on his character as well as his professional life. He was also suspected to exit form Good Morning America due to monetary issues.
However the news of his fun and adventure with his girlfriend were still taking rounds. Josh Elliott celebrated his new NBC Sports gig by sweeping his girlfriend Liz Cho away to Miami - where they dined with former GMA co-star Sam Champion. In 2012 dating rumors about Josh Elliott and Liz Cho, 43, the local news anchor at WABC-TV in New York City were reported, they had been spending a lot of time together, they had been seen going from her place to his, and vice versa, at that moment Liz was married to her now ex-husband Evan Gottlieb, president of GOCO Development.
Life Crisis
Elliott was pointed out as the reason for their split, but sources close to Liz said she was dating Elliott and Evan and Liz had been separated for six months already. The couple have one daughter together, Louisa Simone, 7.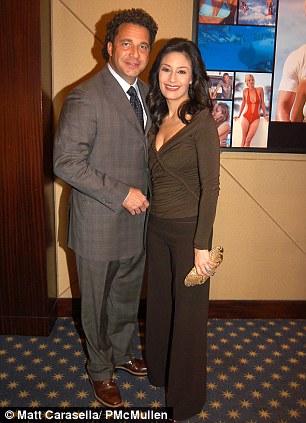 Even if that source claimed Josh Elliott was not dating Liz Cho the rumors about their relationship didn't stop. Another source close to Elliott said he was upset about people talking about the stories calling him a Diva on the GMA set, mostly because the name of Liz often came up. After Liz's marriage fell apart and divorce was filed, she started dating Josh. They were secretly dating for more than three months. There were sources that confirmed that Josh was found sneaking out of Liz's apartment, early in the morning. There were rumors that Josh and Liz were together, before she and her husband filed for ending the marriage . There were many stories and gossips that gave him the name, 'diva' on the Good Morning America set. Josh was very upset about these stories and disappointed that Liz is brought into all this mess.
Elliott has been liked to former Real Housewives of NY Kelly Bensimon, after they were spotted having dinner at New York City's Lure Fishbar, but a source close to him said their dinner was one time thing after meeting while she was promoting her new diet book, I Can Make You Hot, adding thatthey were absolutely not dating.
Recently Elliot is having a hard time among his co-workers since he has so low self-esteem that he needs to be reassured by others to feel good about himself. The reasons of their break-up didn't reach the news but we can be pretty sure this Don Juan has more issues hidden under his womanizer life style. A couple has to trust each other and he couldn't do so and in consequence had to misbehave which leaded to the couple's separation.