Some news simply can't stay unobserved no matter how hard you try. You see, sometimes it's so provocative that that it's just impossible not to comment on such events. So if you're wondering what we are talking about here is the big news that will certainly make a big fuss. She is 17 years old, she has done a tone of plastic surgeries to become more beautiful and reputable even by her older sisters. Come to think about it, this must be her life goal. And she is pregnant. Any ideas who we are talking about? No? Ok here is another hint. Her name is Kylie Jenner.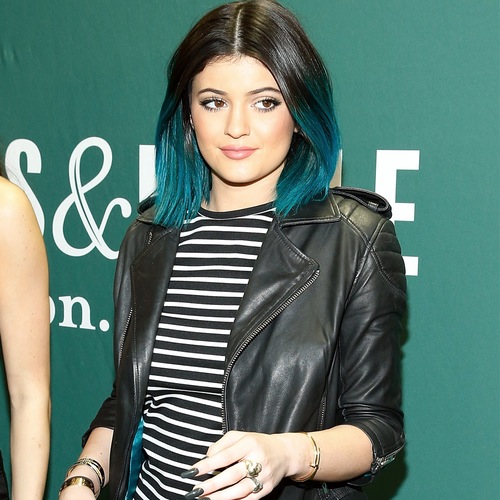 The youngest sister of the Kardashian family is having an affair with the famous raper Tyga. Their announcement that they are planning to get married on August surprised us as all since little Kylie is too young and probably immature (judging by the age and not the character) to make such a big decision. And while you'd think that's the news you'll get for one day and you are starting to get used to it, there comes the big hit. She publically announced her pregnancy.
According to a publication of the InTouch Weekly magazine, the 17 years old celebrity is already three months pregnant. In fact, according to the reportage, Kylie's sister, Kendall Jenner, tweeted about the happy news and she also posted a picture of a positive pregnancy test and below it she wrote: "I don't care what anyone says. Congrats @tyga". The picture stayed online just for a while as it was deleted soon after.
Further information has not yet been released to the public so besides the tweet, the picture and the talks there has been no other confirmation. Of course, many would not require any mother confirmation but don't forget that this is the Kardashians we're talking about, so it wouldn't come as a surprise if this all turns out to be a trick to gain publicity or if the famous Hollywood's family is actually going to soon welcome one more member to the family.
What we can tell for sure is that being pregnant at the age of 17 is at the very least naïve. Fights and protests have been taking place all over the eastern world for years now due to the exact same phenomenon. Young girls getting married and pregnant. And before you rush to argue, yes it is true that those girls get married without their will but that does not apply to all of those little girls who are under the age of 18. Under no circumstances one should leave it up to a child to take such a big decision.
But it seems that if the said girl is a member of one of the most popular families in Hollywood then there's no such problem.
Either way all we can do is wish Kylie best of luck. And only time will tell if she made the right choice and if she is actually about to bring a new life to the world. Stay tuned to find out!